With VSLA my business keeps improving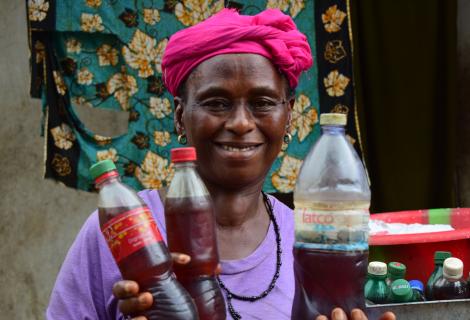 Village Savings and Loan Scheme is the new normal for economic independence
Village Savings and Loan Associations are changing the narrative in the lives of women in various communities. Before the introduction of savings and loan associations in the communities ActionAid works, women used to find it very difficult to access loans and when they do, they pay huge interest which will not make them realise anything when doing their petty trading
Amie Bangura, 52, mother of 7 children, 4 boys and 3 girls who happens to be the chairlady of their savings group in Rosengbeh, is one woman who used to be in such situation.
"it was not easy for us, we can't even have a place to loan money, and when we do have the money, we struggle to pay the interest' Amie informs.
With the formation of the village savings and loan association in their community, Rosengbeh, the women have now seen a great light at the end of the tunnel. "this savings group is a blessing to us, we want to that ActionAid for giving us the box and then training us" Amie informs.  With this the women have access to ready cash, with no interest that they will struggle to pay "I can no take loan and don't worry about how to pay back" Amie again.
With her loan taking from the group, Amie has engaged  buying engine lubricants which she trades in, apart from her farm work "I realise that our village is a transit point for motorbikes and many a time, they do get breakdown, and to have engine lubricants they will have to walk miles before they can have so I decided to go into the business" Amie informs. Apart from taking loan for the business, Amie has also taken loan to pay for her children's schooling and even his eldest son's business when it was engulfed in fire. "if this box was not here, we would have suffered when I heard the news I came to my members and they lend me, now my son's business is back on its feet and he has paid the loan, with the little interest' Amie informs.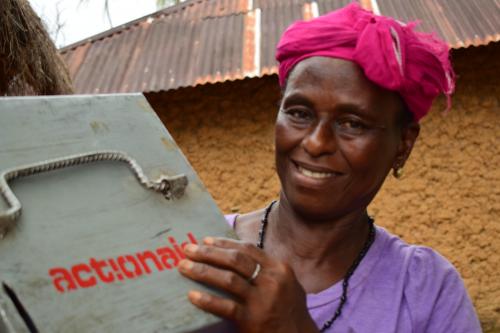 ABOUT THE AUTHOR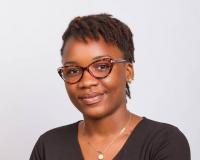 Jonathan Y. Bundu
 is the Communications and Campaigns Manager for ActionAid Sierra Leone