VIOLENCE AGAINST GIRLS CLUB TRAINED ON SEXUAL REPRODUCTIVE HEALTH RIGHTS (SRHR)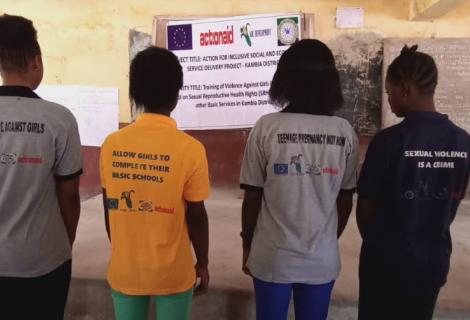 60 members of the Violence Against Girls Club (VAG) benefit from training on Sexual Reproductive Health Rights and Access to basic services in Kambia District.
With support from the European Union in Sierra Leone, and implementing partner (ABC), ActionAid Sierra Leone under the Action for Inclusive Social and Economic Service Delivery, has concluded a two-day training for 60 adolescent girls at the Magbema Islamic Secondary School Fonkoya community, Magbema chiefdom in the Kambia District Northern Sierra Leone.
Centering on Sexual Reproductive Health Rights (SRHR) and access to other basic services within the Kambia District, topics such as the need for teenagers to be au-fait with the available SRHR services in their communities, reporting all forms of Violence to the focal persons in schools or communities through the referral pathways and motivating them to focus on their studies and abstaining from sex were properly discussed.
Speaking to the teenage girls, the Executive Director for ABC, advised them to remain focus during the training, stressing on the fact that very important information will be passed on. "Please pay attention to what you are been taught here as such trainings will set the foundation for a brighter future. It will also enable you to rise above all forms of abuse that you might encounter along the way and being fully equipped to know how to report and where to report" He said.
Fatmata Jalloh, a member of the VAG and a senior student at the science department at the Islamic School expressed her excitement on the knowledge gained from the training.  She said "most of the youths in the community were not familiar with the referral pathways neither where they aware of the family planning medications available within the community but with this training, adequate knowledge has been acquired which will in turn help them to make informed decisions" she concluded.
As a motivation package, T-Shirt, 2 box of sanitary pads, 2 bathing soap, toothbrush and 1 box of liquid disinfectant was donated to each of the 60 participants.  In total, the Sexual Reproductive Health Rights (SRHR) project training is targeting 600 adolescent girls with a fair percentage of 120 girls per chiefdom level and 60 per training sessions in line with Covid19 restrictions.
At the end of the training, four key campaign messages were developed. Messages such as (1) Stop Violence Against Girls (2) Teenage pregnancy not now (3) Sexual Violence is a crime (4) Allow Girls to complete their basic education will serve as a guiding principle within the community and serve as a mantra to these adolescent girls.