Training on Movement Building concludes in Freetown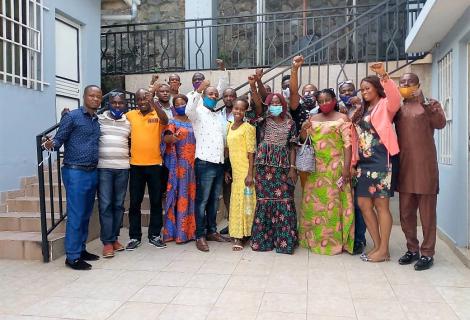 ActionAid Sierra Leone (AASL) - People's Power Movement Sierra Leone (PPM SL) ends training on Movement Building
The National Executive Board of the People's Power Movement Sierra Leone (PPM SL) has ended a two-day training and meeting on Movement Building and Review of PPM SL Strategic Plan at ActionAid Sierra Leone Head Office in Freetown.
Key issues of discuss during the training were centered on understanding; the Movement DNA, Vision of the Movement, Theory of Change, Grand Strategy, Grand Strategic Objective and Pillars of Support.
PPM SL Vice Chairperson, Mrs. Aminata Kelly-Lamin who is also the Policy and Advocacy Manager of Action Aid, facilitated key sessions on the Movement Building Training and Alhassan Jalloh, the PPM SL National Coordinator led sessions on review of the PPM SL Strategic Plan.
District Executive members of PPM Falaba, Bombali, Port Loko, Kailahun, Kenema, Bo, Moyamba and Western Area participated in the event.
Executive Director of ActionAid Sierra Leone, Mr. Foday Bassie Swaray in his welcome address, implored members to effectively use their innate powers to influence change at all times.
Discussions on campaign issues regarding the transportation sector, the Free Quality School Education program on NPSE and BECE transition, the Auditor General's Reports, the Free Health Care Initiative, Water Security and local Council tax were identified and prioritized.
Members were grouped into three teams for development and rolling out of the campaign strategy and plans.
The People's Power movement resist corruption, bad governance and HR Violations through Non Violence actions of which ActionAid Sierra Leone is a Founding Member.