MAKING IT TO THE FINISH LINE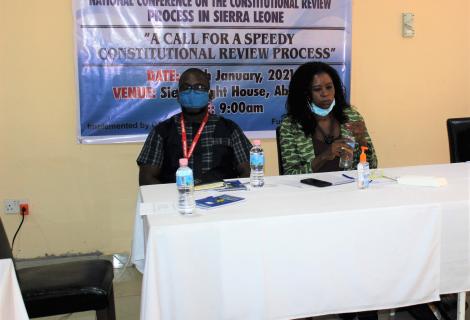 ActionAid through CARL demands for an immediate resumption of the CRC Process.
The Centre for accountability and rule of law (CARL) with support from ActionAid Sierra Leone (AASL) has organized a conference on the constitutional review process in Sierra Leone at the Sierra Light House Hotel on Tuesday 26th January 2021. In attendance were participants from the Civil Society Organizations (CSOs), Legal Representatives, Human Rights Activists, Political Parties', and Diplomatic Corps.
The conference seeks to enhance the call for "A speedy resumption of the review of the 1991 constitution of Sierra Leone". This action is a follow up of the project titled "Making it to the finish line: Towards a progressive constitution of Sierra Leone" implemented in 2017 by AASL and CARL.
Sierra Leone's 1991 constitution has served for exactly 30 years from the period it was embroiled in a civil war when rebel soldiers from the revolutionary front (RUF) overthrew the one party pollical system when military junta toppled government to return the nation to  demanding multiparty system. As one of its major lapses the constitution increased executive powers and extended presidential term limits from 4 to 7 years. Additionally, chapter IV section 34 gave the president power to appoint the Electoral commissioner and the Attorney General and Minister of Justice. Civil society activists saw this as a calculated attempt by those in power to twitch the law in their favor and not in the best interest of the nation thereby calling for its review. Among other issues outline where:
•            Abolition of the death penalty
•            Address decentralization issues and the division of responsibilities between local government and central government by addition a new chapter in the revised constitution
•            Remove the discriminatory provisions against women in Sec. 27 4(d) and (e) of the 1991 constitution.
•            Provide greater clarity on citizenship laws to ensure that it is not discriminatory. i.e., based on race and gender.
•            Enshrine a right to healthy and clean environment that will be protected for the benefit of a future generation and to introducing a new chapter on land and natural resources and the environment.
•            Separate the office of the Attorney -General from that of the Ministry of Justice and make both appointments subject to the approval of parliament.
•            Maintain and strengthen judicial independence by reforming the composition and mandate of the judicial and legal service commission.
•            Make the appointment of judges more independent, transparent and merit based.
•            Make provisions for a fixed date for elections and a smooth and clearer transition.
•            Abolish supreme executive authority
Giving his statement on behalf of ActionAid Sierra Leone and as one of the leading partners in this review process, the Executive Director of ActionAid Foday Bassie Swaray expressed his delight in having to work on this review process with CARL from inception to date. He referred to the process of resuming the constitutional review as "very critical and important process in our country".  He further stated that "In our Country Strategy Paper which we implemented between 2013 and 2017, ActionAid was so deliberate to include the constitutional review process as one of our strategic areas of engagement. And in that document, we said "ActionAid will collaborate with partners, networks and coalitions working for a review of the 1991 Sierra Leone constitution and the chieftaincy reforms as a means of addressing rights violations".
Mr. Swaray concluded by stating that "Citizens should start asking questions now by demanding accountability from their elected representatives before it is too late".
Basita Michael – CEO Institute for Legal research and advocacy for justice emphatically stated that "Diamonds are forever, but constitutions are not. No constitution is meant to last in perpetuity. "….it may be proven that no society can make a perpetual constitution or even a perpetual law quoting Thomas Jefferson's note to James Madison in 1789. The earth belongs to the living generation and not to the dead-every constitution then and every law naturally expires at the end of 19 years. According to this judgment, the 1991 constitution expired more than a decade ago.
Furthermore, she stated that "going by the strategic objectives and key policy actions mentioned in the Middle Term National Development Plan 2019-2023, there cannot be a better time to accelerate the review process and finalize it. The progressive and ambitious policies of the government uniquely afford us the opportunity and valid grounds to urgently reform our constitution. There is a need for us to align the strides we have made as a nation and our progressive policies with our constitution. We cannot afford to have a constitution that is at odds with the new values, needs and aspirations of the people of Sierra Leone. Our constant call and longing for good governance, lasting peace, national cohesion, and better standard of living for our people are far too advance for the 1991 constitution. It is difficult to imagine the kind of amendments that would effectively fix all the flaws and loopholes of the 1991 constitution, but we can easily revise the 1991 constitution to give it a humane face. One that believes in the dignity of humans and that mirrors the needs of our nation that has grown not only in population but also in both its international and domestic responsibilities".
"Millions of leones and other resources have been spent to produce two constitutional review reports -Dr. Peter Tucker's in 2008 and Justice Edmond Cowans in 2016. Despite these promises and reviews, successive governments have failed to deliver a revised constitution. We trust that if, as a nation, we come together and redouble our efforts, our hopes and dreams of a revised constitution will soon be turned into reality" she concluded.  
Statements from Political Party representatives captured the inadequacies of the 1991 constitution specifically drawing attention to the supreme powers given to the president amongst others. They also pledged their continued support in the review of this all important document binding the affairs and management of the state.
Representing the European union in Sierra Leone, Tom Vens said "Sierra Leone has made notable progress in promoting peace and democratic governance. This includes peaceful transfer of power in 2007,2012 and 2018. In the 2018 elections there were regional and tribal divisions which deteriorated the country's stability. About 60% of the country's youth population are ex-combatants who are unemployed and are therefore another threat of a potential conflict.
He said "as Sierra Leoneans, you should not allow poverty, marginalization, greed, and injustice to continue to hamper the lasting peace" emphasizing that "this is a Sierra Leonean process and thus ownership must be taken by its citizenry to ensure it reflects views devoid of political affiliations"> 
From the Office of the Attorney General and Minister of Justice, assurance was given to the speedy completion of this review process. It was shared by the representative from the State Council that a Taskforce has been set up and a Terms of Reference (ToR) will be shared with CSOs on the composition of this force and strides made so far. However, the AG through his representative implore all to focus on having a constitution that provides equal rights and justice for all.  
ActionAid is interested in this constitutional review process for several reasons which includes but not limited to having a constitution which protects the rights of all Sierra Leoneans irrespective of their gender, political affiliations, tribe etc. Having a constitution that guarantees access to public services for all citizens and above all having a constitution that promotes social justice, consolidate peace, and prevents the repetition of violent conflict that Sierra Leone witnessed during the past.
A communique was developed at the end of the conference, capturing all the recommendations from participants which will be shared with CSOs for their representations and sent to the government for the attention and speedy reaction.
ActionAid believes that a progressive constitution is what Sierra Leone needs to strengthen our democracy, consolidate our peace, and move this country forward and it will continue to push for its review in the best interest of its citizenry especially for children and women.